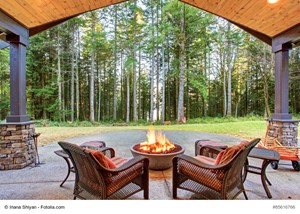 When you think of making improvements to your home, you probably often turn to the inside of your home to bring the value of your home up. The outside of your house provides the same type of opportunities and adds value at the same time. People not only like to live in the indoors of their homes, but the outdoors as well. Maximizing the outdoor space allows for entertainment opportunities and increased living space without maximum costs.
Spruce Up Your Garden And Landscapes
The landscape of your home is a revolving battle. You'll need to continually maintain these areas of the home. Choose your plants based on the climate you live in. Keep the grass looking green, or plant a drought-tolerant yard. Adding trees for shade, shrubbery for beauty, and other types of plants not only helps increase the curb appeal of your home, but plants and trees can lower energy bills and keep your home cool at the same time.
Build An Outdoor Space
Building something like a deck or a patio to your home can really be effective at adding living space and value to your home. Whether you decide to go all out and attach a deck to your home for you to step out on, or do things a little more simply and pave a patio, you'll find a return on your investment. Most homeowners look for a nice outdoor space to hang out on, so this improvement can make a big difference.
Curb Appeal Matters
The curb appeal of your home is what it looks like when people pull up tot he front of the house. Having a better looking home from the outside can increase the value of your home and the future appeal it has to buyers. Your home will be more inviting by doing improvements like repaving the driveway or adding a stone wall. Whatever you think the front of your home needs to make it more inviting should be done not only if you're planning on selling your home, but for your own enjoyment as well.
Add Other Touches
There are certain luxuries in a yard that can make a big difference. Add a small waterfall or a fountain to add a lot to a yard. Along with your deck or patio area, you should also consider adding a fire pit or an outdoor fireplace. These items attract people for their immense enjoyment. The design doesn't even need to be elaborate. These can be some of the biggest, yet most inexpensive improvements that you can make to your yard.
Remember that no matter how you want to spruce up your yard, it's all about enjoyment and the ability to make use your yard. Add the personal touches that you know will make your yard special and purposeful.