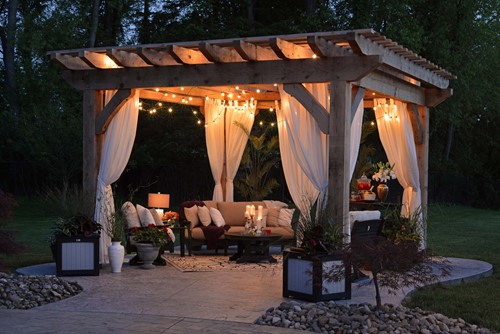 Photo by Randy Fath on Unsplash
Outdoor living areas give you opportunities to spend more time outside during the year. Instead of a traditional patio or deck, consider adding an elaborate outdoor living room, kitchen and dining area. These are a just a few ideas to think about including in your high-end outdoor living area, so you'll have a spacious and comfortable place to entertain guests outside or relax with your family.
Outdoor Gourmet Kitchen
Your outdoor kitchen can go far beyond a simple gas grill. With the right setup and equipment, you can prepare full meals outside. Outdoor kitchens can have ovens, cooktops and side burners that allow you to make side dishes or desserts while you're grilling your main entree. You can also invest in a double-sided grill that lets you grill meat and vegetables separately or use charcoal on one side and gas on the other side. Other outdoor kitchen features to consider include a wood-fired pizza oven, warming drawers to keep food heated, full refrigerator and freezer, sink and even a dishwasher for easy cleanup.
Outdoor Dining Room
An outdoor dining room for your luxury home offers an inviting place to savor meals with family and friends. Set up a rustic dining area with a reclaimed wood table and chairs, or arrange an elegant, classic outdoor dining area with a wrought-iron table and chairs. Your outdoor dining room can be uncovered and open, so you can enjoy plenty of sunshine or views of the night sky at evening meals. For a more secluded feel, you can add a roof to your outdoor dining area, and use drapes or curtains around it to create a cozy atmosphere.
Outdoor Living Room
Having an outdoor living room provides you with a place to read, watch a movie or show or sit with others while enjoying fresh air. You can fill your outdoor living room with an upscale furniture set that's designed for use outside. Your living room can also have a large stone or brick fireplace or hearth for a rustic look that keeps this area warm when it's cooler out. Place a fireplace or hearth at one end of your outdoor living room with your TV over it, or have a fireplace or hearth installed in the middle of this area with built-in seating all around it.
If you're using your outdoor living room for watching movies or TV, consider installing a state-of-the-art entertainment center that can be used outdoors. Depending on space and your personal preferences, you can even set up an outdoor movie theater area with plush seating, a popcorn machine and a high-end sound system.